The Economic and Financial Crimes Commission (EFCC) has mandated former members of the National Assembly Service Commission (NASC) to return government vehicles which they have converted for personal use.
The anti-graft agency issued the directives after former NASC chairman, Alhaji Adamu Fika, and all immediate past commissioners were fingered in the misuse of the vehicles numbering 12 for personal use.
Relying on section 38 (1) of the EFCC (Establishment) Act, 2004 and section 21 of the Money Laundering (Prohibition) Act 2011, the commission vowed that the indicted individuals will be dragged to court on counts of alleged conspiracy and criminal conversion of public property.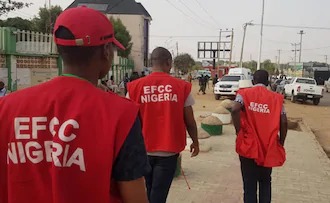 EFCC said it is also questioning the former clerk of the NASS, Muhammed Ataba Sani Omolori, over his alleged role in the conversion of the public vehicles.
Omolori, who left office in July 2020, is also being queried alongside former commissioners and the indicted NASC chairman.
EFCC gave the names of the commissioners as Alhaji Aliyu Abubakar, Alhaji Abubakar Garba Rufai, Alhaji Abdulkadir Abugi, Elder Stephen Yepwi, Riskat Oyebimpe Alabi, Oluwafunmilola Lamuye.
Others are Abe Chukwu, Godfrey Dikeocha, Senator Dahiru Gassol, Mallam Idi Adamu Ningi and Dr. Paul Oweh.